Joint Strong $95 (908grams)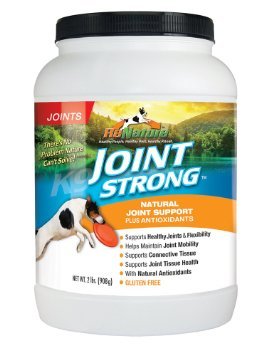 Put Out The Fire and Make Real Joint Pain Progress! Animal Naturals K9 Joint Strong joint support formula is designed to "Put Out the Fire" of dog joint inflammation. Dog joint pain and inflammation fighting K9 Joint Strong helps produce results even for dogs that are "non responders" to ordinary formulas.
Animal Naturals K9 Joint Strong is designed to provide dual benefits, joint factors and antioxidants. Joint factors include USP-standardized glucosamine, MSM and others to help maintain normal joint function. In addition, natural antioxidants help protect cells (including joint) from free radical damage.
This two-way joint support health strategy is meant to help maintain joint mobility.
Per Serving:
Glucosamine Hydrochloride 1,150 mg
Chondroitin Sulfate 600 mg
MSM (Methyl Sulfonyl Methane) 10 mg
CMO (Cetyl Myristoleate) 75 mg
Hydrolyzed Chicken cartilage 155 mg
Hyaluronic Acid 800 mcg
Animal Naturals K9 Joint Strong Active Ingredients Per Scoop: Proprietary Blend of Glucosamine sulfate, MSM (Methyl Sulfonyl Methane), TMG (Trimethyglycine), Chondrotin sulfate, N-Acetyl-Cystine, Curcumin, CMO (Cetyl Myristoleate), Chicken collagen type ll, Hyaluronic Acid (N-acetyl glucosamine, D-glucuronic acid), Pyridoxine, HCI, Folate, Biotin………..1500mg

Inactive Indredients: Camelina oil, Cooked chicken, Cranberry, Green tea extract, Prune, Raspberry and raspberry seed extract, Rice bran, Strawberry, Tart cherry, Wild blueberry extract.

Directions: Mix with dog's regular food at meal time. Administer daily. Divide amount equally if fed more than once per day.
Full strength
0 – 25 lbs ˝ scoop
25 – 49 lbs 1 scoop
50 – 99 lbs 1˝ scoops
100 lbs plus 2 scoops
Half daily dose for maintenance for required body weight.

Cautions: Safe use in pregnant animals intended for breeding has not been proven. Consult with your veterinarian before using this product in animals: with clotting disorders; being treated with anticoagulant medications; diabetes, or any metabolic disorder causing hyperglycemia; history of urinary tract stones; known allergies to shellfish. If lameness worsens, discontinue use and contact your veterinarian. Administer during or after the animal has eaten to reduce incidence of gastrointestinal upset.