Go Dog $50 (approx 560grams)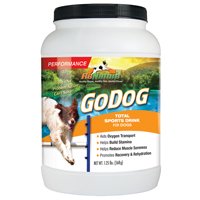 Total Performance Drink for Dogs! Go DOG, dog sports drink supplement is more than just water and carbs. It's not a human sports drink reconfigured for dogs. Its designed specifically for the canine metabolism and features a proprietary blend of electrolytes, short-burst and long-range energy fuels, plus vital buffering agents.
These buffers help neutralize performance-robbing, potentially-lethal metabolic acid (H+) build-up.
The explosive muscular power that propels your dog into the air after a Frisbee or over an agility obstacle comes at a cost heat. The more power generated, the more heat produced. This heat builds up and limits performance. It can even kill. There's never been much you could do but surrender to the endothermic (heat generating) effect. Except wait it out, hope for the best. Now that human sports drinks have proved themselves, we believe it's time that dogs benefit.
Nothing does more to keep your dog in the performance and safety zone than Go DOG. Try Go DOG, and see the longer-stronger-happier-healthier difference it makes in your dog!
Go Dog provides the following powerful benefits:
Recov

ering or Dehydrated Dogs

Any Dog in Hot Sun

Safety & Fun

Endurance

Increase Oxygen Delivery

Hydration

Lactic Acid Buffering

Exercise Comfort

Mental Focus

Trans Fat Free!

K9 Athletes: Agility, Shows, Fly Ball, Hunting, Herding, Obedience, Coursing & More
GoDog Human Grade Ingredients: GoDog Performance Factors Glucose polymers (long chain complex carbohydrates), Resistant starch, Medium-chain triglycerides, Beef Fat, Potassium L-lactate, Sodium L-lactate, O2Boost L-Citrulline, L-Citrulline Malate, D-Ribose, Potassium ascorbate, L-Carnitine, Magnesium orotate, GoDo Recovery Factors Cooked chicken, Cooked beef, L-Glutamine, L-Leucine, L-Valine, L-Isoleucine, L-Taurine, L-Carnosine, ALA (alpha lipoic acid), L-Alanine, L-Glycine, Phosphatidylserine. GoDog Hydration Factors USP Glycerol, Sodium citrate, Potassium citrate, Potassium succinate, GoDog Antioxidant Factors Vitamin E (alpha-tocopherol), Calcium ascorbate (non-acidic source of vitamin C), Grape seed extract. GoDog Joint Factors TMG (trimethylglycine), Chondroitin sulfate, MSM (S-Adenosyl Methionine), Sodium hylauronate (glucuronic acid N-acetyl glucosamine), Choline bitartrate, Calcium Lactate, Pyridoxine HCL, Inositol, Di-calcium phosphate, Zinc L-Aspartate, Folic acid, Manganese L-Aspartate, Dimethylprimidinol sulfate (source of vitamin K), Thiamin monohydrate, Cyanocobalamin (B12), Paba.
Directions: Mix one scoop GoDog in approx 0.62lt water in a shaker or sports bottle. Squirt from sports bottle slowly into dogs mouth or pour into water bowl.
Before exercise: feed 25% of bottle 15 minutes prior to exercise.
During exercise: feed 25% of bottle every 15 - 45 minutes.
After exercise: feed remainder within 30 minutes after workout. Dog shows, performance trials, etc. - feed 25-50% of bottle every 30-60 minutes to maintain energy levels.